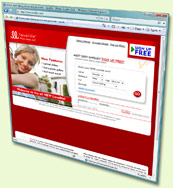 LavaLife.com holds an interesting standing among online dating sites both for the focused dating communities it targets (Dating, Relationship and Intimate Encounters) and the full palette of online features to help start the mingling process. This technique has served to differentiate LavaLife amongst what is becoming a very crowded online dating marketplace. That differentiation has produced an extremely popular site for dating singles drawn by the ease and the opportunities that only Lavalife can offer.
Mixing time-honored aspects like personalized profiles and complex search abilities with less traditional concepts like the special Lava Life "smile" concept, the live video interactions and the "backstage pass" are just few of things that make this personals service stand out from the crowd.
The free aspects of LavaLife's online offering compose one of the more interesting sets of tools amongst online dating sites. Obviously, the goal is to provide you with as many dating opportunities as you desire and to convert these opportunities with actual communications in hopes of it leading to an actual date. With that goal in mind, LavaLife.com has created the "smile" which can be compared to a "wink" on some other sites. Smiling at someone communicates that you checked out their web profile and saw something interesting. A smile opens up the ability for that person to see your own profile, but does not involve any actual exchanging of written words.
If the smile or abundance of fun, attractive people in your area prompt you to want to reach out and make contact with someone, you'll need to pay a subscription fee to obtain access to Lava Life's email and instant messaging tools. Currently, they are offering a 1 month and a 3 month subscription plan. Regardless of your plan choice, you'll then have unlimited access to all of the features available at Lavalife.
After subscribing, be sure to take advantage of the online tools and open up a line of communication with someone and explore the many dating prospects that you think have potential. As anyone that has surfed through countless profiles can tell you, it is easy to tell right off of the bat who is worth talking to and if you can limit your time to only those people, great things can happen and LavaLife has put faith in that exact concept.
One of the more interesting aspects of this singles site has long been its backstage pass concept whereby certain aspects of your profile (pictures, in particular) are accessible only to those you extend a backstage pass to. For example, you can restrict some of your more personal photos to users that you have sent a few e-mails back and forth with. This allows you to include more personal information on your profile without worrying about every random person with a free account surfing in and seeing you in your undies.
Because this dating service has differentiated itself so well from the rest of the competition in the online dating industry, it has thrived. The user base grows every day as more and more singles are discovering the hip user base and the seamless maneuverability of meeting new people from the various Lava life communities. Of course, your profile is free, as are smiles, so get started today and see what smiles you turn up.