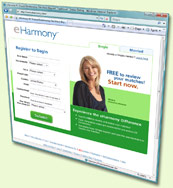 Online dating usually means finding a desirable date who you like because of his or her picture, profile and whatever communication you chose to have before a meeting. Who you choose and the type of relationship you share are generally up to you. You can meet up for a casual date or embark on a steady relationship; it's really all about you and what you want from the relationship.
However, if you are ready for a more serious long term relationship, you may or may not find him/her through online dating services that are geared towards dating versus matchmaking. This is not so at eHarmony.com. This relationship web site only welcomes heterosexual singles who have marriage in mind and uses a patented, scientific system that determines compatibility for marital happiness. The following are some of the most important reasons why a lot of lasting matches are made on eHarmony.com.
Serious Relationships for Marriage
Singles who sign up on eHarmony are genuinely looking for a long-term relationship, with marriage as their final goal. This means that all members at this website are truly interested in finding a spouse, and if you subscribe you are sure to be matched with commitment-oriented singles. eHarmony has a huge database of such subscribers who are looking forward to settling down, giving you a bigger chance of meeting other similarly like-minded partners.
Compatibility Test
Their compatibility test is based on a scientific method, which tells you the sort of person you are, the relationship type you want and the people who are your best relationship match for marriage. This involves filling out detailed questionnaires when you join online. Make sure you have ample time to complete it, so this doesn't test your patience. It is well worth the effort, since marriage is a long-term commitment that requires lots of patience. The more patient you are at this stage, the more thorough you are going to be and as a result it would be easier to find great matches to your profile.
No Searches
The test does away the need for searching. It is the job of eHarmony to find you potential dating partners based on the results of your compatibility test. Matches which are great for long-term marital bliss are selected and delivered right into your inbox, saving you from the time and hassle of communicating with a lot of people who could be unsuitable for you in the long run.
Guided Communication
Not only does this matchmaking service find you a compatible match, it holds your hand through a guided communication process. You could ask your matches a few questions from a selected list or create some of your own. If interested, they will respond and send you a set of questions of their own. All this takes place in total anonymity, so that your communication progresses on channels that are scientifically proven to be the most effective. At the end of the process, you are then able to make a better determination of your next step, be it to meet for a first date or move on to other potential matches, based on the information shared and the type of connection made.
eHarmony.com has matched thousands of couples based on this method and united them in happy marriages. Choosing a life partner is a difficult process, whether in real life or online, because it needs patience, honesty and time to come up with the right match. eHarmony does not promise dramatically desirable companions in a short span of time. However, what this online relationship site does commit to is that given time, it can find you a partner who was made for you, someone who complements you in every respect, and with whom marriage will be for a lifetime.