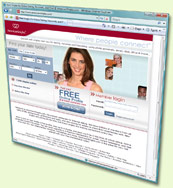 More than seven million singles have joined the AmericanSingles website in search of their perfect date. It is one of the most popular online dating services today. Members who get the most out of this Internet dating site use it as a means to an end. Specifically, members take advantage of the features offered on this web site to find and meet potential matches for their dating needs. Sure, it is nice to stop and chat awhile, but it is much more productive to actively search for a match and to move on from there.
AmericanSingles.com features a user-friendly website that is so simplistic even online newbies can use it easily. No one has to spend hours trying to figure out what to do or how to do it. This eliminates the frustration of learning how to navigate a website in order to use it. After all, if you were attempting to find someone to talk to in person, you wouldn't spend hours trying to get the lay of the land.
New members indicate what type of relationship they are looking to find by completing a preference sheet. Various pieces of basic information are requested for this including age, gender, religion, height preference, weight preference, drinking preference, location, and smoking preference. This information is used to screen possible matches so that only those that have potential to be a good match are selected.
It almost sounds too good to be true. If you think about it though, so many members have joined American Singles that finding someone based upon any number of characteristics should not be too difficult. In fact, the choices are so many, that it almost seems as though someone in their system has to be a perfect match for each and every single who signs up.
Each new member must complete a brief questionnaire that is easy to understand and answer. Additionally, each subscriber composes a paragraph in which they describe their ideas of the perfect relationship and of the perfect match. This paragraph is a terrific venue for listing the personal interests or beliefs that are the most important to them as well. In fact, this statement is so personal that it is a great spot to try and begin to know someone.
A search can narrow down the possibilities considerably due to the capability of selecting one of four options: location, most active members, most popular members, and newest members. Once this initial setting has been selected, additional characteristics can be selected.
AmericanSingles offers certain features that ease the initial discomfort that is often associated with the early stages of dating. For example, numerous flirting icons are available. Plus, members can easily check in to see who is currently online. This eliminates some of the tension that accompanies singles when they first enter the online dating scene. And let's not forget the chat room! Chatting with new friends is one of the fastest ways to developing a dating relationship.
The customer service department at AmericanSingles provides excellent guidance along with a set of FAQs. Each FAQ is relevant to online dating or the American Singles website. Plus, the answers to each question are clearly detailed, providing easy solutions to any minor problems. Additionally, emails are typically answered within a day's time or less.
AmericanSingles.com sends out the information on a daily basis for potential matches based upon the search criteria, taking out the legwork for paid members. At this time they charge $29.95 for a monthly membership. This matchmaking service caters to singles in the United States, Canada, and more than 200 other countries including the United Kingdom and Australia.