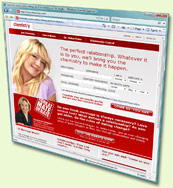 With all the available ways of finding one's match in contemporary times, meeting "the one" seems like it should be so easy. But alas, it is not. After all, with a busy lifestyle and seemingly ever shrinking dating pool, it can sometimes feel like the odds of finding a soulmate are as high as that of winning the lottery. That is the reason why Chemistry.com was born. Chemistry was set up by the same experts behind Match.com. However, it's not like the usual online dating site because Chemistry.com is based on the science of life and love. With this matchmaking service, you do not have to rely solely on fate to find the one, because you can also use science as it relates to how we all fall in love, too.
Chemistry Gets to Know You
Sign-up is very quick and easy. You will be asked to fill out basic details on Chemistry's homepage and you will immediately be sent a welcome e-mail. There's no need for confirmation. You get directed at once to the next page, which logs you in automatically and asks you to answer a series of questions, which will be the basis for your Chemistry profile.
Because every strong relationship builds on honesty and that foundation is based on how well you answer their questions, it's to your advantage to be honest as this service gets to know you. Your answers will then be used to help define your background and personality. It is at this point that this matchmaking service goes to work finding other singles that matches up well with your personality and preferences.
Find the Complement to the Real You
Chemistry.com does this by surveying your preferences in a dating partner including his/her smoking and drinking habits, religious background, educational background, preferred partner's distance from you, and your preferred partner's body type.
The service will automatically take care of the next steps. Based on the information it has collected from you, it will give you as many as five matches every day. With as many as five matches daily, you can check out more than 30 matches in a week! If you're interested in a match, you simply need to click on his/her name and read a summary of their profile. They also trace how you were matched. On the bottom of your match's profile page, you can view the qualities he/she prefers in his/her ideal partner. Maybe it is you.
See Who's Interested
Besides checking out profiles, you can also see who checked you out. You can view the profiles of users who have shown interest in you in the "Interested in You" page. If you think you've found a match, you can take the next big step by becoming a full subscriber to Chemistry.com. This will allow you to start communicating with your match using their internal messaging system (private mailbox).
And once you and your date are ready to meet, be sure to use Chemistry's one-of-a-kind First-Meeting technology to help seamlessly plan the first date so that everything is perfect for that special night. For instance, they will use you and your match's zip code to identify a good meeting place (usually a coffee shop) that is equidistant from you and your match. But you have the freedom to decide on another meeting time and place.
Review your First-Meeting
After your First-Meeting, you are allowed to leave a feedback for Chemistry.com to see how it went. Your feedback will include your date's punctuality, listening skills, and the overall fun of the date. It also asks if there was chemistry. This match making site also wants to know just how accurate your date's profile and picture is. Was your date exactly what you expected him/her to be? But the crucial question it asks is whether you would like to continue getting to know this person or move on other potential matches.
Since these comments are made anonymously, neither you nor your date will know what was said. However, you will receive a short message from Chemistry telling you whether or not your match is interested in continuing to get to know you.
Combining innovative technologies with science and psychology, creates a highly effective matchmaking service. Best of all, it is designed to work for anyone, regardless of your personality, interests and desires. Try it yourself to see how this extraordinary site can help you find the perfect relationship.